Project Summary
Vision
Lightweight CFS framed buildings are modeled with an accuracy and efficiency that enables accurate incremental dynamic analysis to be performed providing building specific seismic performance assessment capable of integrating with state-of-the-art performance-based design procedures. Advances in experimental knowledge and modeling provided here enable rational and accurate assessment of full classes of lightweight CFS framed buildings for traditional design utilizing response modification coefficient, system over-strength factor, and deflection amplification factor.
Abstract
This project builds on single-story shear wall research to address multi-story, CFS lateral force resisting systems. Component-level experimentation at JHU, combined with full scale building experiments at the UB NEES facility, will lead to improved understanding and provide validation and verification for computational models that will be developed. The computational models will include high fidelity models for exploring and expanding on the experimental efforts, and high efficiency reduced order models appropriate for utilization in nonlinear time history analysis and incremental dynamic analysis of CFS buildings.
Throughout this research, the structure will be treated as a complete system, and the floor (diaphragm) and wall will not be idealized as simple collectors for the shear wall, but as systems themselves contributing to the seismic resistance of the building. In particular, the UB NEES shake table facility will be utilized to test a multi-story, CFS framed building with (a) only the lateral system in-place, (b) the lateral and gravity system fully in place, and (c) structural and nonstructural systems in place. This series of tests will enable identification of these separate systems and their interactions, and provide validation modeling for the simulation tools.
A key advancement for inelastic time history analysis of CFS buildings, necessary for modern performance-based seismic design of CFS members, is the development of a high efficiency beam element that incorporates the strength and stiffness reductions inherent in local and distortional buckling of thin-walled CFS cross-sections. This project will develop a new frame element coupled with finite strip cross-section analysis for implementation in OpenSees. This new element lays the foundation for other thin-walled structures to be utilized in seismic design, e.g., structural plastics, aluminum, ultra-high strength steel, all of which must include cross-section deformation due to their inherently thin-walled nature.
Multi-Story CFS Frames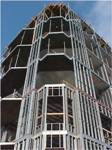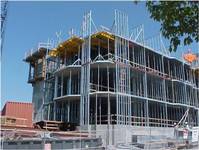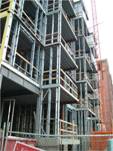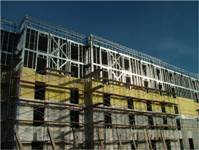 Photos are provided by Don Allen, P.E., DSi Engineering.