Baltimore Convention Center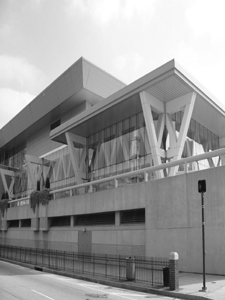 Engineer / Architect:
Naramore, Bain, Brady and Johanson; Cochran, Stephenson and Donkervoet, Inc. (1979); Loschky, Marquardt and Nelsholm; Cochran, Stephenson and Donkervoet, Inc. (1996); Skilling, Helle, Christiansen, Robertson, Inc (Seattle, WA, 1996); Jack Christiansen (affiliated with Leslie Robertson of NYC, 1996); Whiting-Turner (construction)
Location:
1 West Pratt Street
Baltimore, MD

Year Built:
1979, 1996
Structural Form:
low-rise building, steel trusses, space frame, post-tensioned concrete
Historical Details:
N/A
Technical Details:
N/A
Image Source(s):
Rachel Sangree
References:
M.E Hayward and F.R. Shivers, Jr., the Architecture of Baltimore: An Illustrated History, The Johns Hopkins University Press, Baltimore (2004), p. 290;
J. Dorsey and J.D. Dilts, A Guide to Baltimore Architecture (Third Edition), Tidewater Publishers, Centreville, MD (1997), p. 69.