Mercantile Bank and Trust Company Building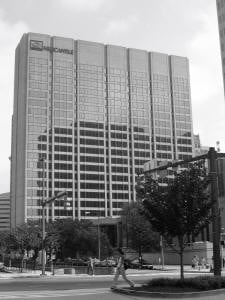 Engineer / Architect:
Peterson and Brickbauer; Emery Roth and Sons
Location:
2 Hopkins Plaza
Baltimore, MD

Year Built:
1969
Structural Form:
High-rise office building; reinforced concrete
Historical Details:
When it was completed, the new Mercantile Bank and Trust Company Building replaced the original Mercantile Safe Deposit and Trust Company Building. This building, also part of the Charles Center redevelopment, was built at the same time and designed by the same architects as the Sun Life Building.
Technical Details:
The building is supported by reinforced concrete load bearing columns. The stainless steel bars running the along the windows for the full height of the building are for window-washing equipment.
Image Source(s):
Rachel Sangree
References:
J. Dorsey and J.D. Dilts, A Guide to Baltimore Architecture (Third Edition), Tidewater Publishers, Centreville, MD (1997), p. 79;
M.E Hayward and F.R. Shivers, Jr., the Architecture of Baltimore: An Illustrated History, The Johns Hopkins University Press, Baltimore (2004), p. 283.