Saint Paul's Episcopal Church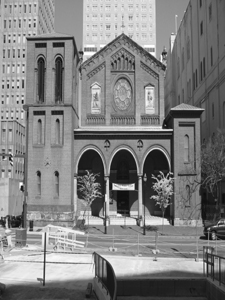 Engineer / Architect:
Richard Upjohn
Location:
Charles and Saratoga Streets
Baltimore, MD

Year Built:
1856
Structural Form:
Italian Romanesque Church; masonry walls, timber roof trusses
Historical Details:
This church replaced the previous one on this site after most of it burned in a fire in 1854. That previous church had been built by Robert Cary Long, Sr. in 1817. After the fire, the congregation asked Richard Upjohn, architect of Trinity Church in Manhattan, to rebuild. Upjohn, having just returned from Italy, designed the church as an Italian basilica, utilizing the walls of the church which were still standing. The tower was supposed to be six stories tall, but for some reason construction stopped after two stories.
Technical Details:
The roof is supported by exposed timber king post trusses.
Image Source(s):
Rachel Sangree
References:
Historic American Buildings Survey, Built to Last No. 10: Old St. Paul's Episcopal Church. Retrieved April 19 from: Link;
J. Dorsey and J.D. Dilts, A Guide to Baltimore Architecture (Third Edition), Tidewater Publishers, Centreville, MD (1997), p. 91;
M.E Hayward and F.R. Shivers, Jr., the Architecture of Baltimore: An Illustrated History, The Johns Hopkins University Press, Baltimore (2004), p. 140.