Saint Vincent de Paul Church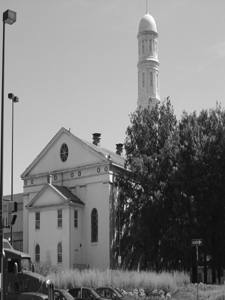 Engineer / Architect:
Reverend John B. Gildea; George A. Frederick; Murphy Dittenhafer
Location:
120 North Front Street
Baltimore, MD

Year Built:
1841; 1876-95; 1994 (renovations)
Structural Form:
Neoclassical-style church; brick walls, interior cast iron columns
Historical Details:
While the interior has undergone several renovations since its 1841 construction, the exterior is unchanged.
Technical Details:
The structure is brick, but was painted white to resemble wood.
Image Source(s):
Rachel Sangree
References:
J. Dorsey and J.D. Dilts, A Guide to Baltimore Architecture (Third Edition), Tidewater Publishers, Centreville, MD (1997), p. 181;
M.E Hayward and F.R. Shivers, Jr., the Architecture of Baltimore: An Illustrated History, The Johns Hopkins University Press, Baltimore (2004), p. 111.