News & Events
January 2016 Website updated and project close out
As of December 2015 the CFS-NEES project is complete. This website has been updated a final time so that it may remain as a permanent repository for the research. The experimental data is also curated with NEES and is transitioning from nees.org to designsafe-ci.org under the NSF NHERI initiative (new in 2015). The PIs and project team send their thanks to the vast number of participants and sponsors who made the project possible.
Septmber 2014 Website updated
Full-scale testing is complete. Computational modeling is underway and will be complete in the Fall of 2014. Publications have been updated. It is intended that this page will provide an archive for the CFS-NEES project, along with the materials available at the NEESHub, but this site is no longer seeing regular updating.
June 2013 Phase 1 testing completed at UB's SEESL lab
Full-scale testing and related construction are ongoig at the SEESL lab at the University of Bufalo in the Summer of 2013. Graduate student Kara Peterman is at the SEESL lab for the summer and providing regular (blog) updates of the progress at http://cfsnees.blogspot.com. The Phase 1 testing concluded with a shake table test of the CFS-NEES building under the full-scale Canoga Park record from the 1994 Northridge Earthquake.
Videos: Phase 1 construction, Phase 1 full-scale testing, Phase 1 results from key sensors
January 13, 2013 New report released and all publicatons updated
The test report on fastener cyclic resting (RR)4) is posted and all publications related to the project have been updated in Publications.
December, 2012 Testing at UB-NEES to begin April 2013
The CFS-NEES full-scale testing will begin at UB-NEES starting 15 April 2013. Updates and links on the progress of the full-scale testing will be provided as the work progresses in the Spring and Summer of 2013.
June 22, 2012 New report on shear wall testing released
The test report on shear wall tests conducted as part of the CFS-NEES project is now available in Publications.
May 17, 2012 Updated report on CFS-NEES model building
The building design narrative is now updated to version c. The updates include 1. clarification of the shearwall, chord studs and holddown designs for systems with mixed field and boundary stud thickness and yield points. 2. The stiffening detail for the HSS 'foundation' at holddowns is now included in the drawings (Appendix 5), and 3. Appendix 7 including the analysis and discussion of the rigid diaphragm modeling. The updated report is now available in Publications.
April 24, 2012 New report on backbone moment-rotation curve of CFS beams released
A new report on the backbone moment-rotation curve of CFS beams, a project conducted as part of the CFS-NEES project is now available in Publications.
September 21, 2011, Jiazhen Won the Student Competition on Cold-Formed Steel Design
Jiazhen Leng got 1st place award in the student competition on Cold-Formed Steel Design based on research algorithms developed with Profs. Schafer and Guest. Link to the announcement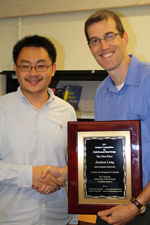 June 9-11, 2011, Quake Summit 2011
Quake Summit 2011, NEES & PEER Annual Meeting, was held in Buffalo, June 6-9, 2011. Six CFS-NEES team members attended the event and Prof. Schafer presented the progress and plan of the project in the meeting. Link to the event
February 9-12, 2011, EERI Annual Meeting 2011
2011 EERI Annual Meeting will be held in San Diego, February 9-12, 2011. Prof. Nakata will attend the meeting. Link to the event
January 4-7, 2011, NSF CMMI Research and Innovation Conference 2011
2011 NSF CMMI Grantee Conference was held in Atlanta, January 4-7, 2011. Profs. Schafer and Nakata attended the conference. Link to the event
December 29, 2010, CFS-NEES Featured on Modern Steel Construction
Steel in the News, "Seismic Research on Cold-formed Steel Construction" Link to the article
December 18, 2010, CFS-NEES Featured on Construction Digital
Construction Digital News, "Johns Hopkins Tests Seismic Structural Stability of Steel Frames" Link to the article
December 16, 2010, CFS-NEES Featured on Homeland Security News Wire
News Release on the Business of Homeland Security, "Quake experiments may lead to sturdier buildings" Link to the article
December 15, 2010, CFS-NEES Featured on RxPG News
Research Article in RxPG News, "'Shaky' plan: Quake experiments may lead to sturdier buildings" Link to the article
December 15, 2010, CFS-NEES Featured on Baltimore Business Journal
Balitmore Business Journal News, "Hopkins wins $1M to study effects of earthquakes" Link to the article
December 14, 2010, CFS-NEES Featured on JHU Communications and Public Affairs
Johns Hopkins University News Release,"'Shaky' Plan: Earthquake Experiments Could Lead to Sturdier Buildings" Link to the article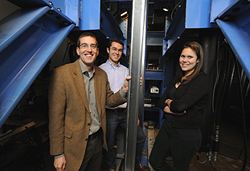 December 9, 2010, CFS-NEES Featured on Occupational Health and Safety
News Articles, "Two Universities Working on Steel for Better Seismic Performance" Link to the article
October 2010, CFS-NEES Featured on News at AISI
New Steel News, "AISI Participates in Research to Advance Cold-Formed Steel Seismic Design" Link to the article
October 7-8, 2010, Quake Summit 2010
Quake Summit 2010, NEES & PEER Annual Meeting, was held in San Francisco on Friday and Saturay, October 8-9, 2010. Prof. Schafer attended Quake Summit 2010 from the CFS NEES team. Link to the event
September 17-18, 2010, 8th NEES/E-Defense Planning Meeting
The 8th Planning Meeting for the NEES/E-Defense Collaborative Earthquake Engineering Research Program was held in Kobe, Japan, on September 17-18, 2010. Prof. Nakata participated in the meeting. Link to the event
September 10, 2010, Award Announcement at NSF Site
The National Science Foundation (NSF) posted award announcement of the project entitled "NEES-CR: Enabling Performance-Based Seismic Design of Multi-Story Cold-Formed Steel Structures (Award Number: 1041578)". Link to the announcement