About CFS-NEES
NEES-CR: Enabling Performance-Based Seismic Design of Multi-Story Cold-Formed Steel Structures
Lightweight cold-formed steel (CFS) framing is a unique and effective building solution for low and mid-rise structures, but one in which much remains to be understood for the system to achive its full efficiency and for modern performance-based seismic design methods to be fully enabled.
The goal of this research is to generate the knowledge needed to increase the seismic safety of buildings that use lightweight CFS for the primary beams and columns, and enable engineers to account for complete building performance in predicting the response of these buildings to earthquakes.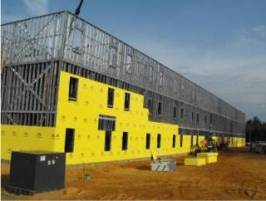 This award is an outcome of the National Science Foundation (NSF) 09-524 program solicitation "George E. Brown, Jr. Network for Earthquake Engineering Simulation (NEES) Research (NEESR)" competition and includes Johns Hopkins University (JHU)(lead institution) and Bucknell University (subaward). This project will utilize the NEES equipment site at the University at Buffalo (UB), State University of New York. Link to the NSF announcement.

- See video of the current status of the CFS-NEES building at SEESL in Buffalo.
- Keep up to date with all the latest on the CFS-NEES testing at Buffalo with our student run CFS-NEES blog!
- May 2013 CFS-NEES building construction starts at SEESL in Buffalo.
- Research Report RR04 on fastener testing posted.. See more
- Technical Reports and Conference Proceedings are added. See more
- CFS-NEES in Media Coverage
- Updated Industrial Advisory Board


-July AISI meetings to be planned in conjunction with CFS-NEES testing
- Next CFS-NEES IAB meeting TBD.